14 Easy & Impressive RV Makeover Ideas on a Budget
This post may contain affiliate links to support the upkeep of this blog - at no extra cost to you! Please read my disclaimer for more info.
Whether you've been driving your trusted companion for a while or you have just bought a new (for you) motorhome, your rig might be in need of an update. Don't have too much stash stored away? No worries! With these tips, you'll get your camper up to date even with a low budget.
A complete makeover might seem like a daunting task, but even small updates make a big difference. With just a few rolls of vinyl sticky back plastic/contact paper for instance, you can refresh your RV kitchen in minutes.
You Might Also Be Interested In
► Our $140 Budget Rv Reno – Before & After
► 80 Jaw-Dropping Rv Bathroom Renovations
► 15 Fresh And Easy Rv Bathroom Makeover Ideas
1 – Use a bit of paint
This is one of my favorite ways of updating any space, was it in an RV or a house. Paint doesn't cost a fortune, you can see results quickly and especially light colors brighten up space quickly.
See below how Meredith from The Palette Muse transformed her camper with a bit of paint. She did the camper makeover as a $100 room makeover – hundred dollars, one month. I don't know about you, but I think she did a phenomenal job.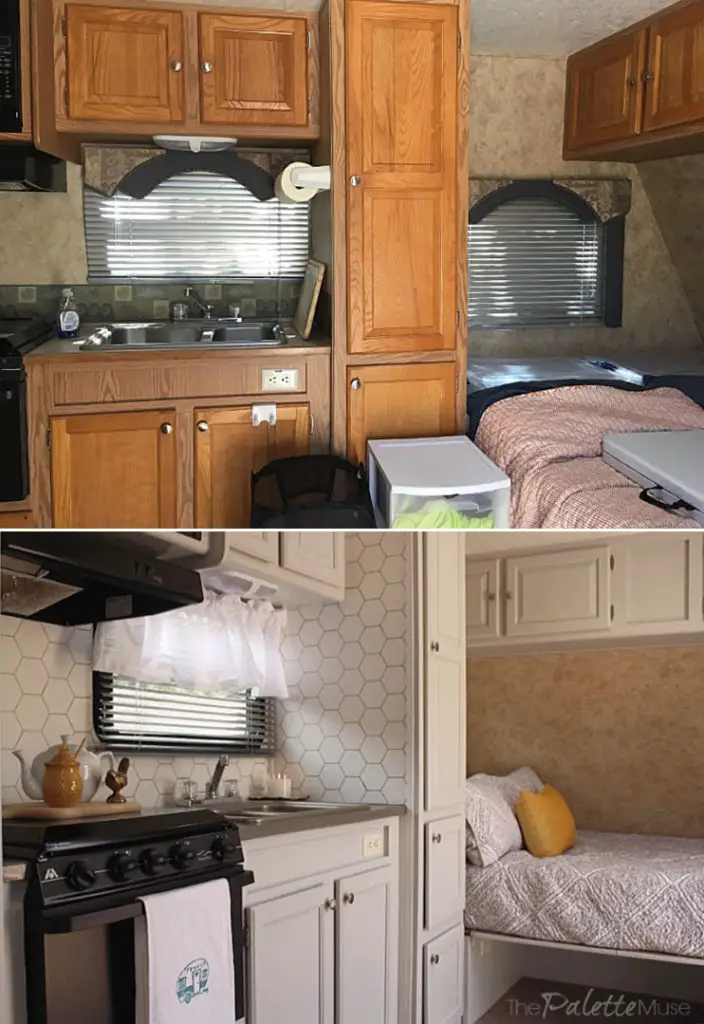 She also painted her own hexagon backsplash. You'll find her tutorial here. If you'd prefer a subway tile or Herringbone, see my tutorial here.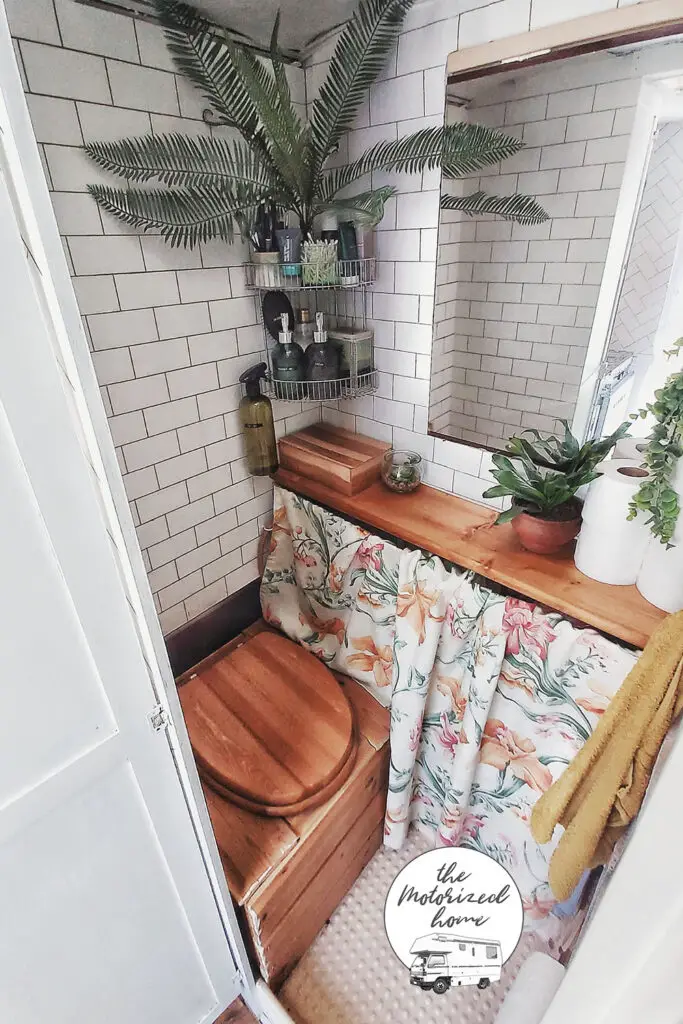 2 – Update your upholstery and dated fabrics
One of the easiest ways to spot camper's age is from it's upholstery. If you are not fan of 70's flowers, 80's neon colors, 90's abstract shapes or early 2000's muddy colors, give your upholstered furniture a makeover. Sometimes just a throw over helps, but you could also make your own slipcovers, like Little Llewellyn made hers or just buy a new one from Amazon or Ikea.
Below is a "before and after" photo of Ashley's RV in her blog Domestic Imperfection, where she has a tutorial on how to reupholster RV cushions… without sewing!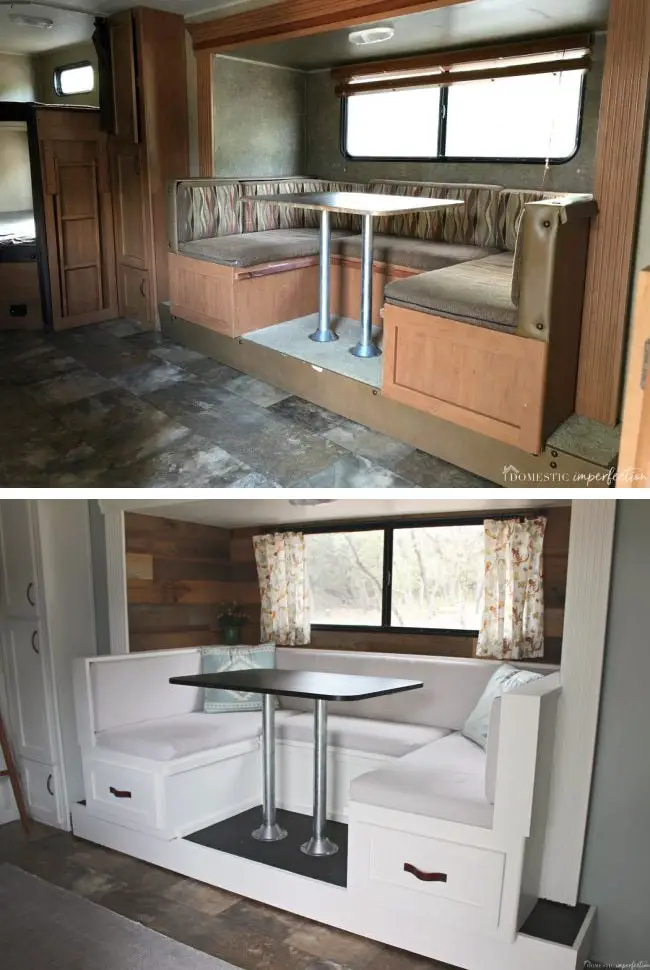 For a quick update get some cozy throws and cushions, like these camper themed cushions from Amazon.
If your RV couch has really seen it's best days, it could be worth the investment to buy a new one. For a more budget-friendly option you could look from normal furniture shop as the purpose made sofas can be very expensive and " a normal sofa" will do as fine, as long as it fits in and it's not overly heavy. For example, check out Ikea's modular Vallentuna sofa series.
3 – Add some wallpaper (or remove it!)
Wallpaper can make it or break it. One of the easy ways to get rid of the outdated look is to remove your wallpaper borders and/or paint the walls. Or if you like wallpaper, try some modern design like Flipping Wendy used on her camper ceiling!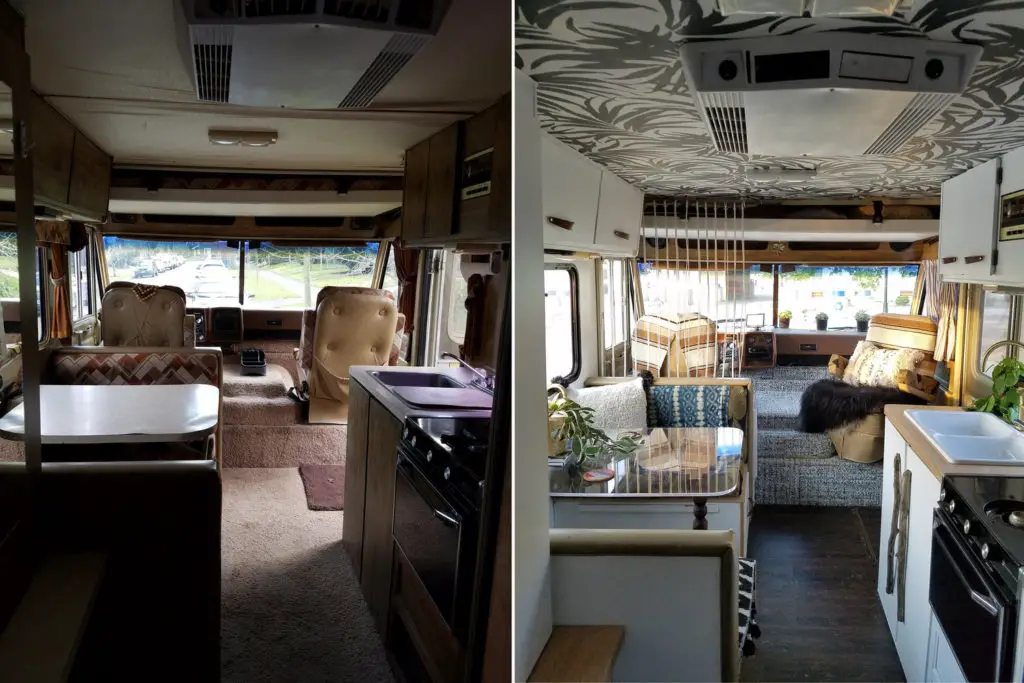 4 – Update your knobs, handles and taps/faucets
It's incredible how much just changing the kitchen cabinet handles transforms the space. Do the same to your internal doors and bedroom cabinets. Buy new ones or just give the old ones a lick of paint.
Another instant uplift to your kitchen or a toilet is to change your faucets or just paint them. Swipe below to see Chenae's RV toilet transformation.
5 – Install a new backsplash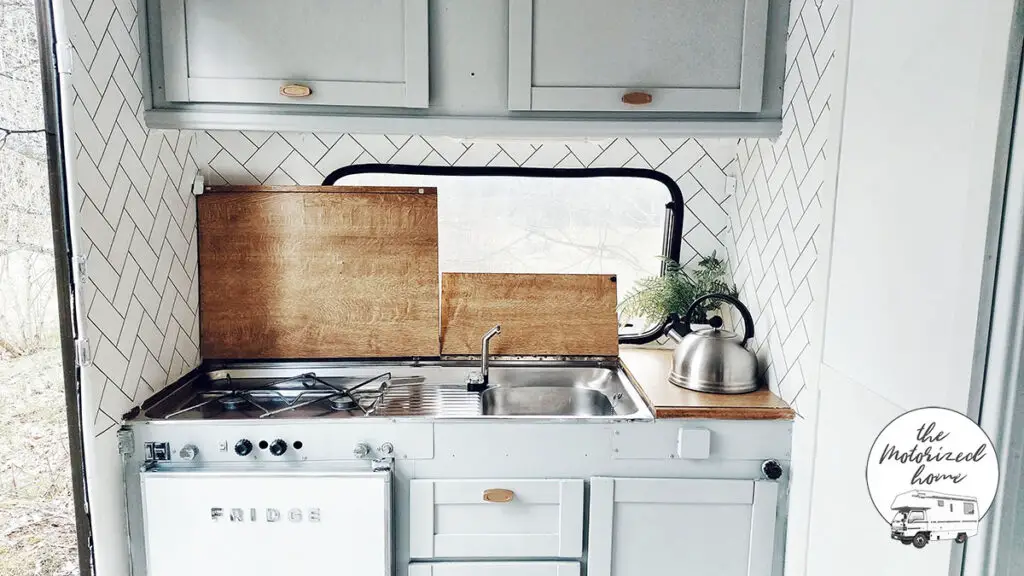 There are so many ways to update your RV kitchen backsplash. Easy and cheap ways are but not limited to; painting one, wallpapering, using peel and stick tiles, using similar contact paper as on the countertop, or using a sheet of stainless steel. You can also use normal tiles, (if the area is not very large, remember the weight!) but use flexible grout.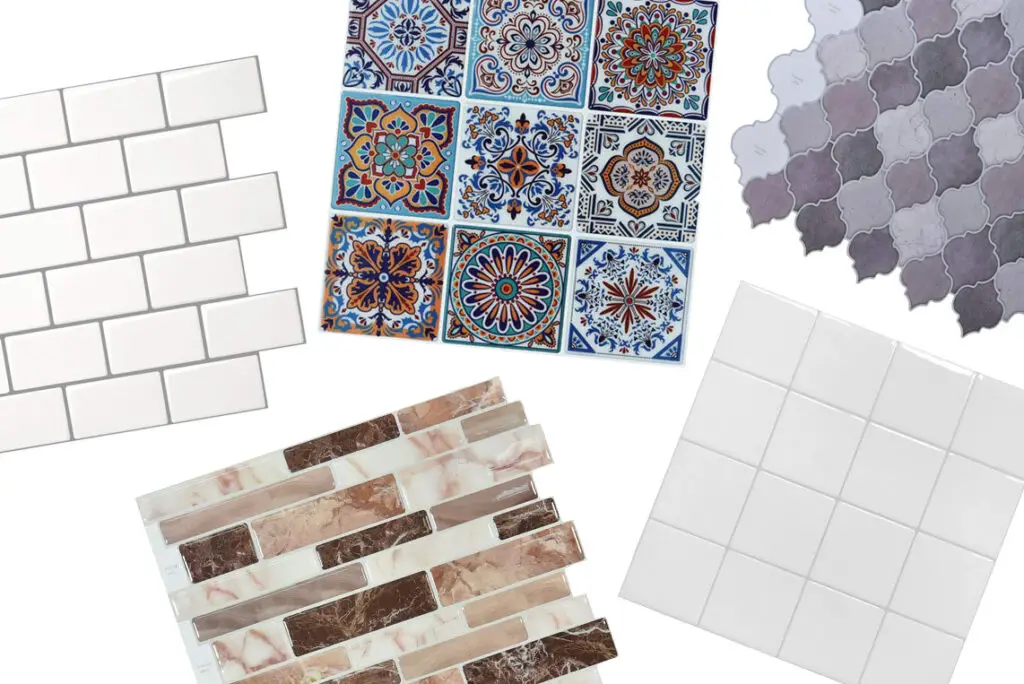 Some great examples below:
6 – Update the countertops
For a more sophisticated look, update your kitchen countertops. If you install a real wooden one, it looks beautiful and lasts you a long time. It is a bit more expensive and heavier though, so for a light and cheap option keep an eye out for a laminate one. If you are on even lower budget, try painting them, or use contact paper.
7 – Update your lighting
Updating your lampshades makes a massive difference. Also, not only for new fresh looks, swapping to LED lighting saves your valuable battery, but is also very bright. So ditch your old dim lights and swap to LED.
Mountain Modern Life has a handy guide on how to update your RV lighting.
8 – Refresh your window coverings
Another often overlooked element in interior design, that can easily update the whole space, is window coverings. Vehq has listed a few different curtain ideas for RVs and Ditching Suburbia shows on his tutorial here how to update the curtains without sewing for less than $100.
9 – Add more curtains
Curtains are not only for windows! For example, replacing awkward doors with some heavy drape curtains makes a statement.
Here is another example from our RV. I changed the top alcove curtains to longer ones, for two reasons; firstly make the space appear larger and secondly for a bit of "wow-factor", to remind me a bit more of a house than an RV. Underneath between the cockpit and living area, there is another curtain for privacy when we need it but don't want to close the long curtains.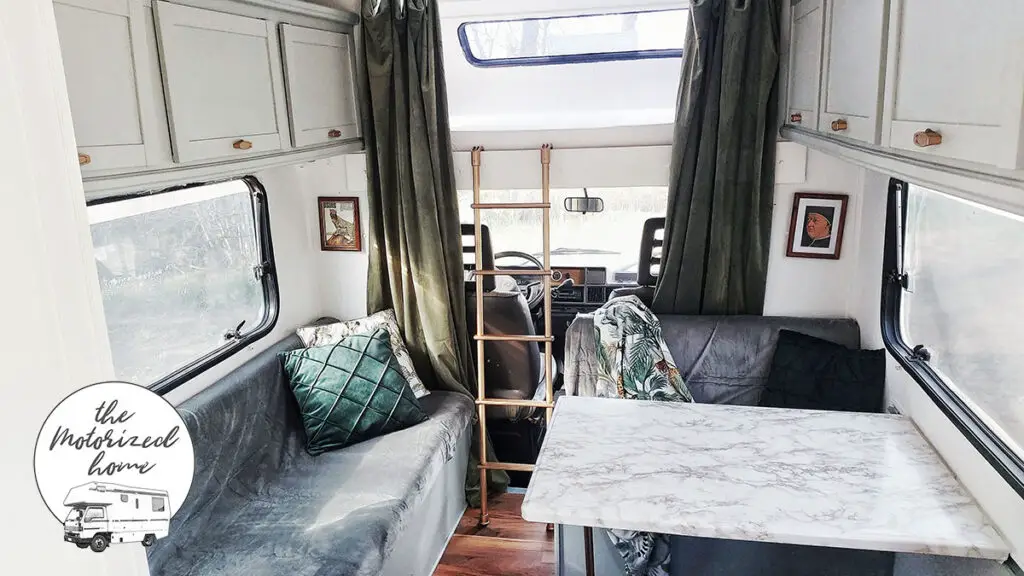 10 – Add plants
Some greenery provides an instant refresher – they make the space feel so calming and cozy, they purify the air, reduce your stress levels, and just look great. Read everything you need to know about plants in an RV here.

11 – Add art & mirrors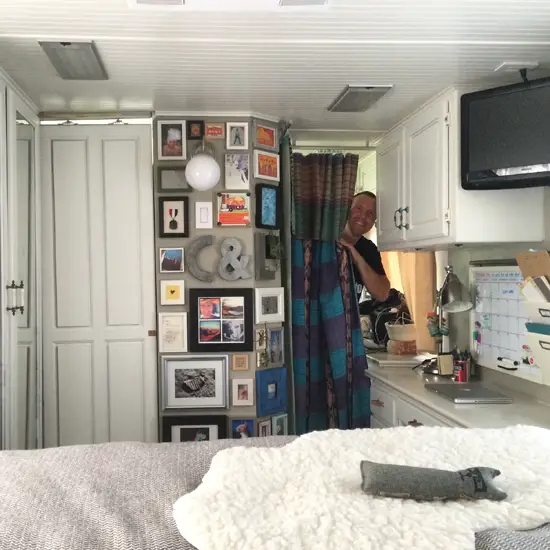 One way to make your space feel like home, is to add some art and other personal pieces on the walls. How about a gallery wall with photos from your travels?
You could also use mirrors to create an illusion of space.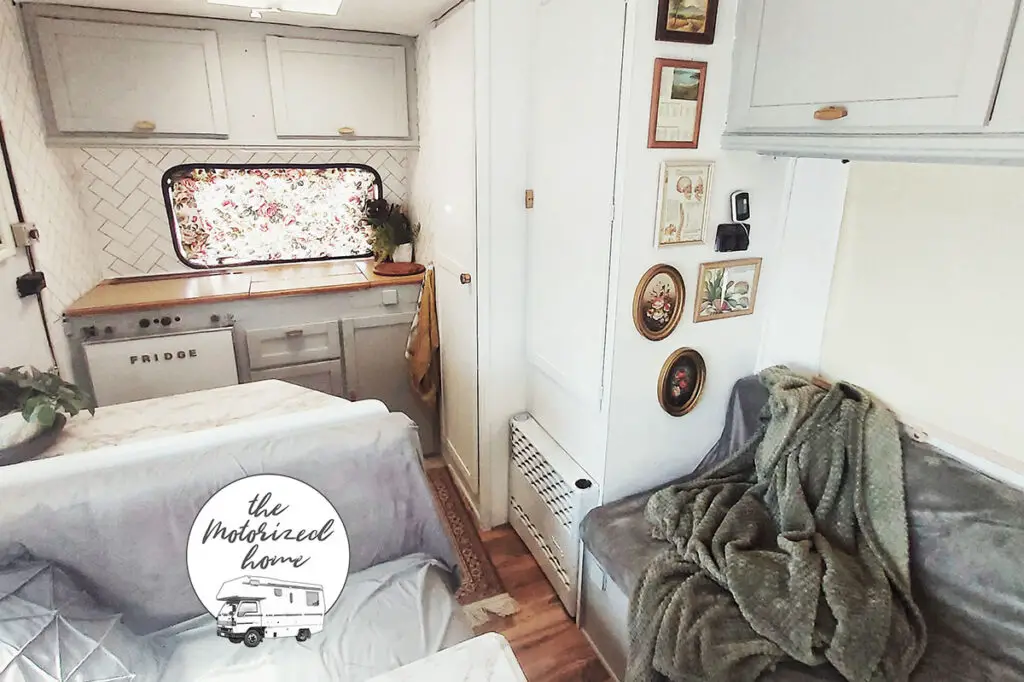 Again, here is our van. Small picture frames really added a homely feel to this space. However, a top tip: Attach the background also with double-sided tape, otherwise when you drive, the picture frames will make black stripes onto your wall, especially if they are white……..
12 – Update your floors
This may require a bit higher investment compared to the other ideas on this list, but replacing the floors, especially if the old ones are pink, worn carpets with smoke burns, makes such a difference it can't be ignored!
See this handy tutorial from Mountain Modern Life here.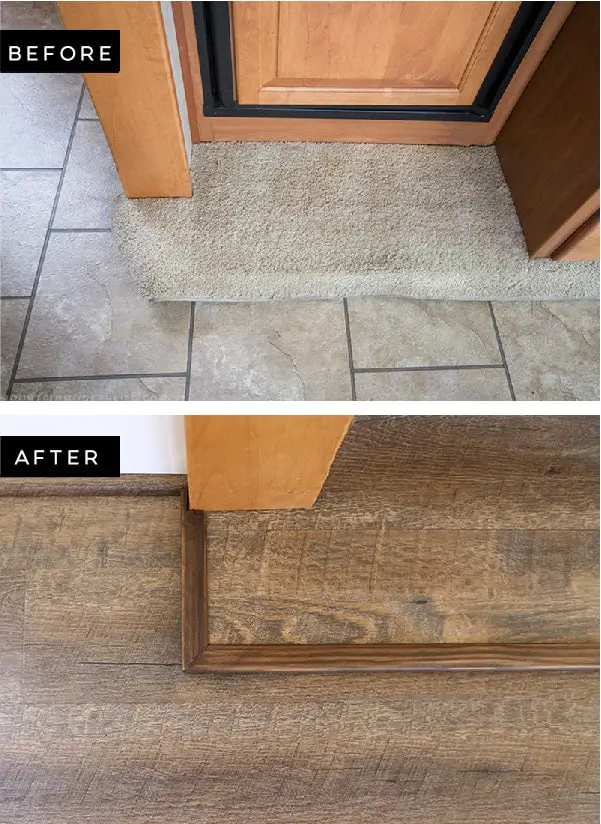 Thanks for reading. I hope you got some inspiration for your own project, and as always, I'd love to hear how you've transformed your RV on a budget!
You Might Also Be Interested In
►OUR $140 Budget Rv Reno – Before & After
►80 Jaw-Dropping Rv Bathroom Renovations
►15 Fresh And Easy Rv Bathroom Makeover Ideas
Pin me for later!