15 Fresh and Easy RV Bathroom Makeover Ideas
January 30, 2020
This post may contain affiliate links to support the upkeep of this blog - at no extra cost to you! Please read my disclaimer for more info.
I have divided this post in two – if you are looking for RV BATHROOM ORGANIZATION TIPS, click here or the photo below, thank you! 🙂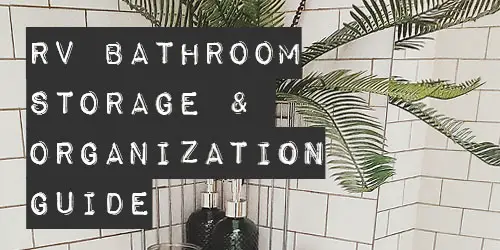 I absolutely love RV bathroom makeovers. As they are usually quite tiny, you can make a big impact with just a small change. Sometimes just changing the shower curtain does the trick, but if you are after more ideas on how to change your space from dab to fab, read below 15 ideas on how to transform your RV bathroom!
Other posts you might be interested in
► 14 Easy RV Makeover Ideas on a Budget
► 21 Ways to Use Self-Adhesive Contact Paper in Your RV Decor
► 80 Jaw-Dropping RV Bathroom Renovations
► How to DIY Faux Tile in an RV or a Camper – Subway and Herringbone
1 – Paint it
The biggest game-changer in this fantastic RV bathroom makeover is definitely the paint. In fact, with such a small budget couldn't believe it's the same bathroom.
If you are painting plastic tubs and sinks, the priming is key. By using epoxy or enamel paint, you can get a beautiful, lasting finish without worries it flaking off later.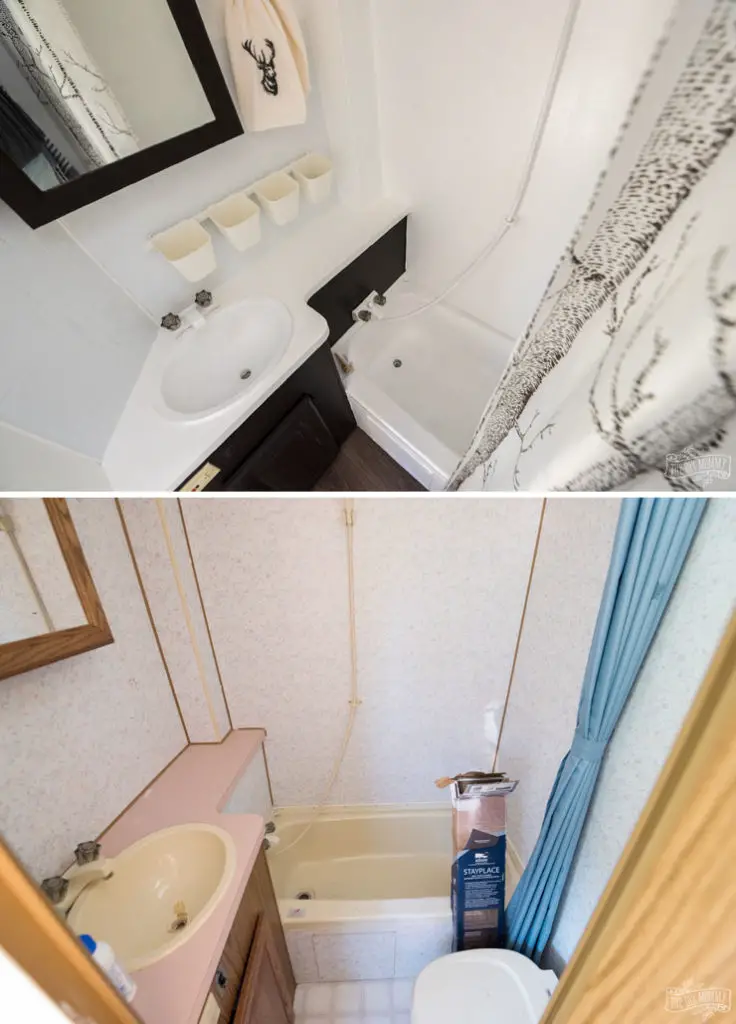 2 – DIY Faux Tile
This is what I did with my tiny RV bathroom. I painted it white and then draw the tiles with a golden permanent marker. Easy, cheap, and most of all, absolutely light-weight. Read more here!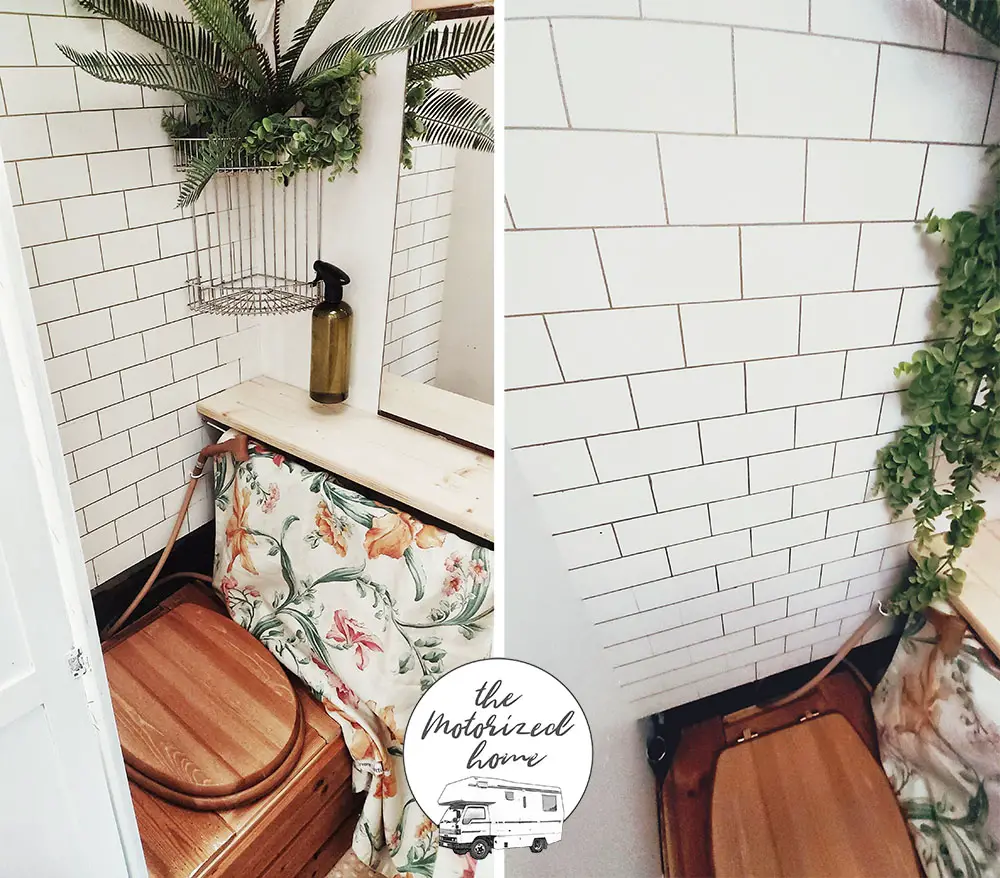 Another fantastic way of doing this is to use tile stencils. Read a great tutorial from Remington Avenue here.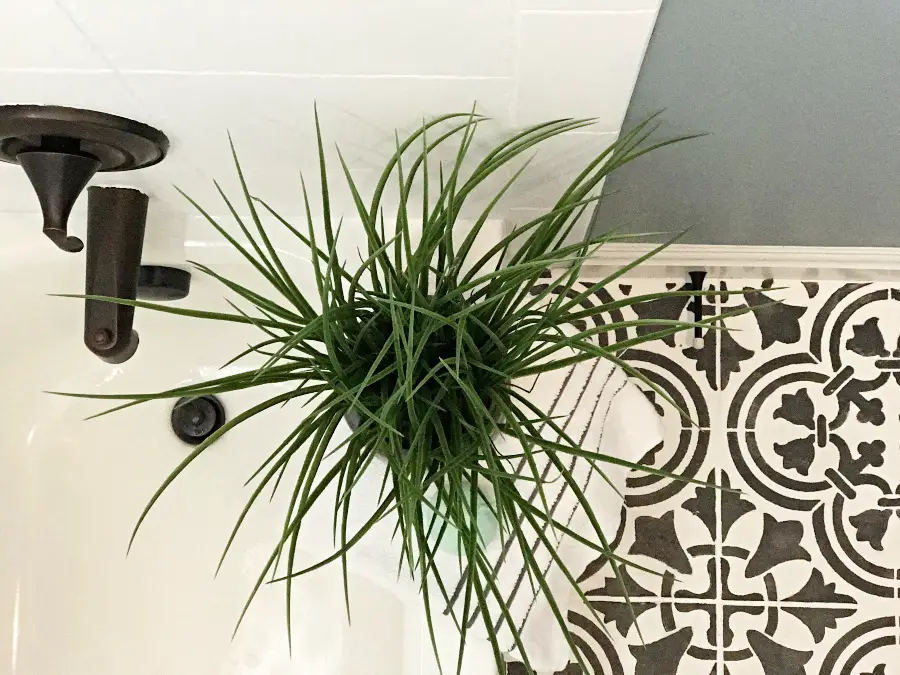 3 – Use Peel and Stick Tiles
These Peel and Stick tiles from The Home Depot look like authentic tiles, but they are light-weight and super easy to install. What a difference!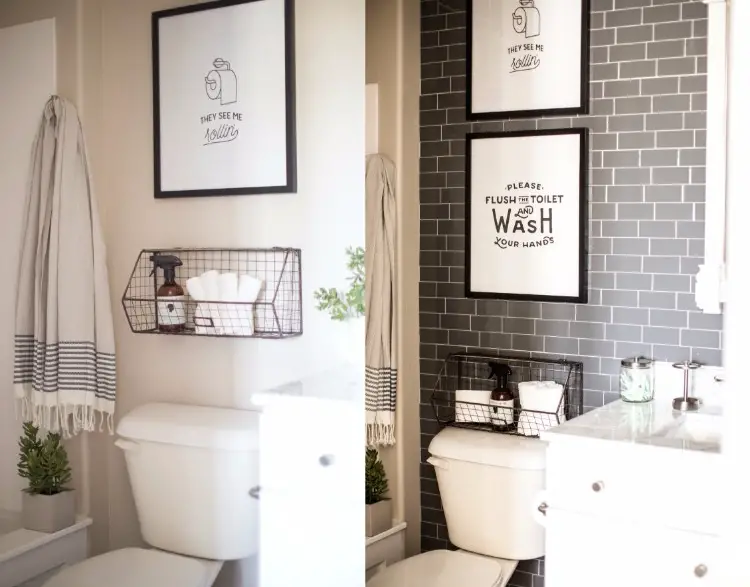 Here Jessica from @thelifeofweeks has expanded beyond the backsplash and used the peel and stick tile on all her walls. Looks fantastic! Make sure to click on the arrow to see what it looked like before.
Some of my favorites from Amazon: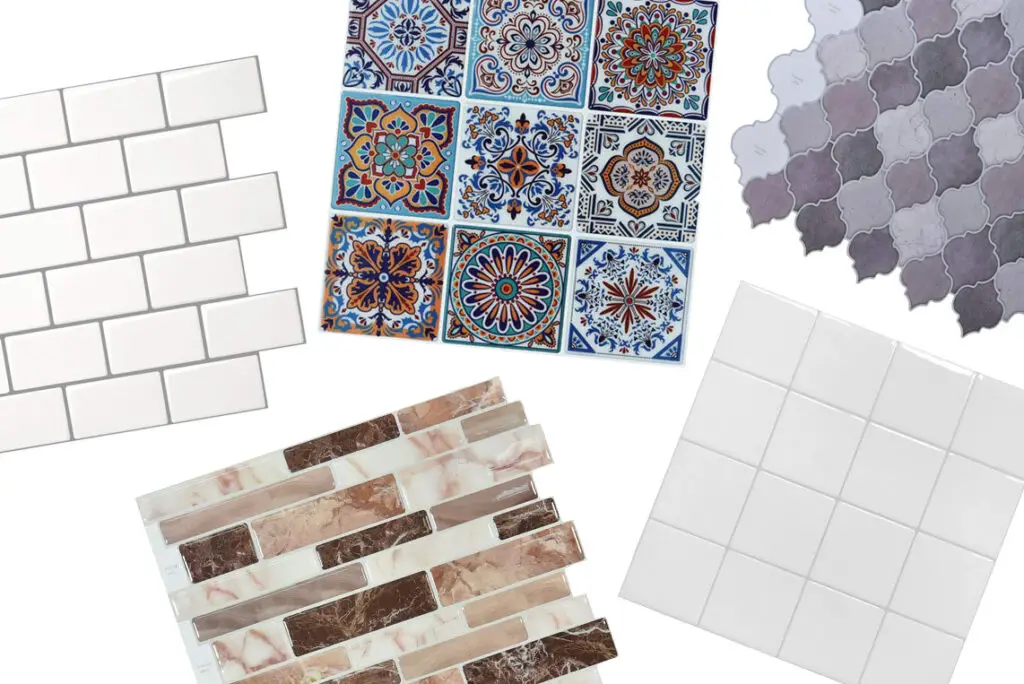 4 – Change the faucet or paint it
Avenue Laurel has updated their faucets easily with paint.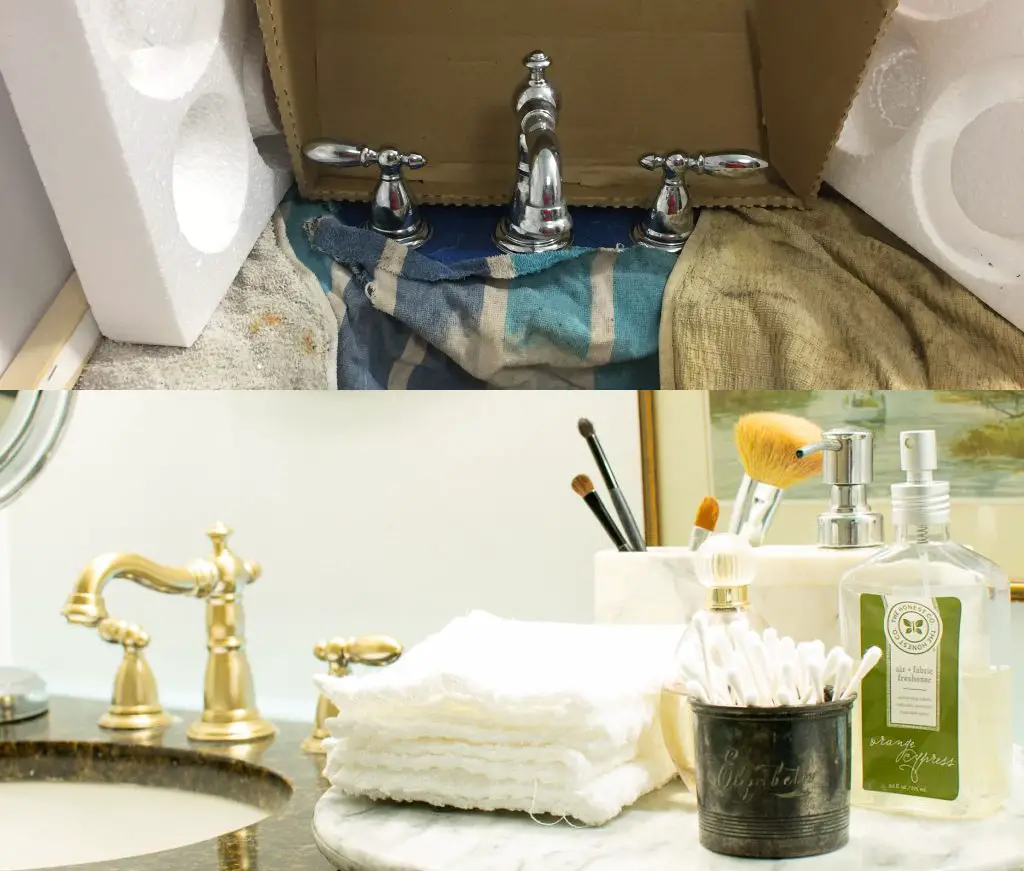 5 – Go for a simple color palette
You can make your RV bathroom look less tiny with a simple and coherent color palette – a basic principle is to pick no more than 5 colors.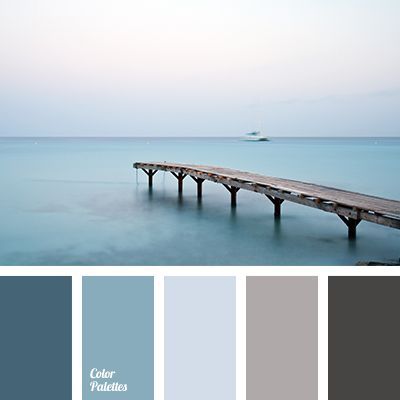 6 – Wallpaper
If you are after a big impact, try wallpapering your RV bathroom. Don't feel like you are restricted to use a small pattern – sometimes the wow factor can actually make your bathroom look bigger! If you are worried, try on just one wall first.
7 – Make your RV bathroom look less cluttered
Decluttering not only makes your bathroom organization easier, but when you also "declutter your labels", it makes a massive difference to the feel of your whole tiny RV bathroom.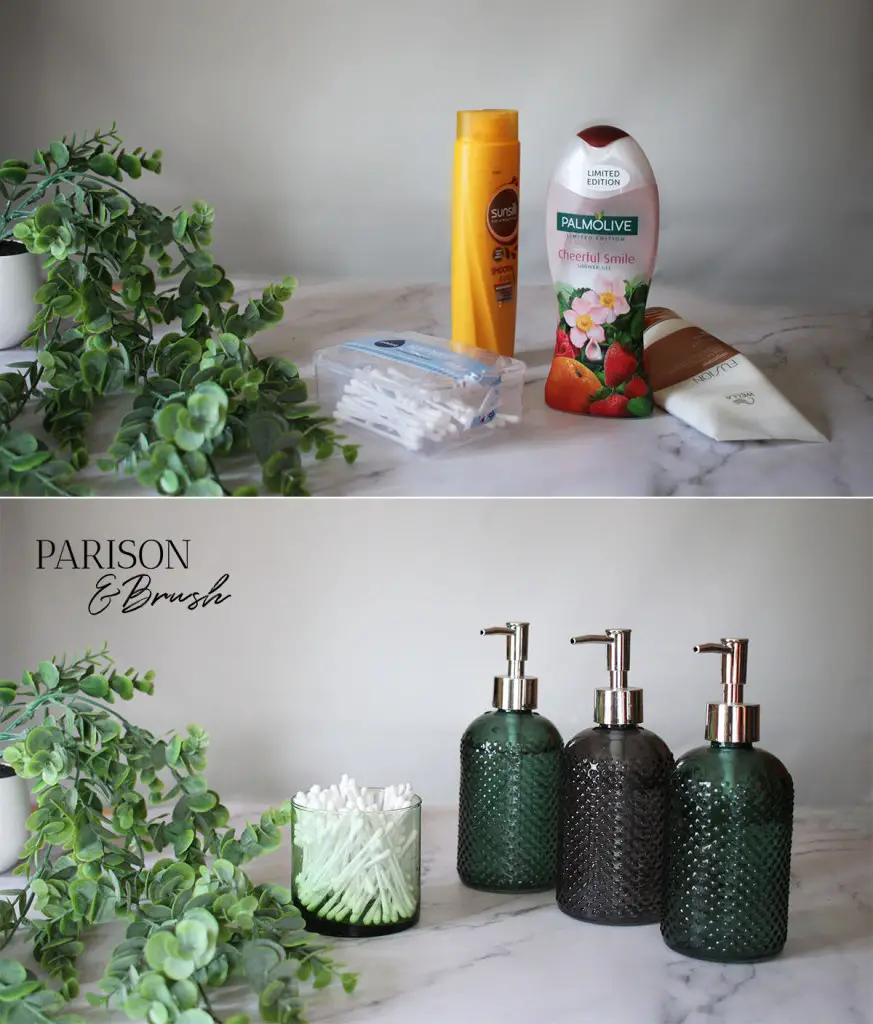 8 – Add plants
Usually adding more stuff into almost claustrophobic places doesn't work, but plants are an exception. Look at this inviting bathroom by Lee Ann and swipe to see the before picture – what a lovely transformation!

►► 11 Plants for your RV that are almost impossible to kill
Here you can see Christy's own little jungle!
9 – Change your shower curtain – or any curtains you have, really
Carla changed all of her RV curtains and what a difference, makes the space look so much cozier instantly.
10 – Accesorize
Get some pattern and color to your bathroom by accessorizing with a pretty shower curtain, a new mirror, bath mats, soap pumps and baskets.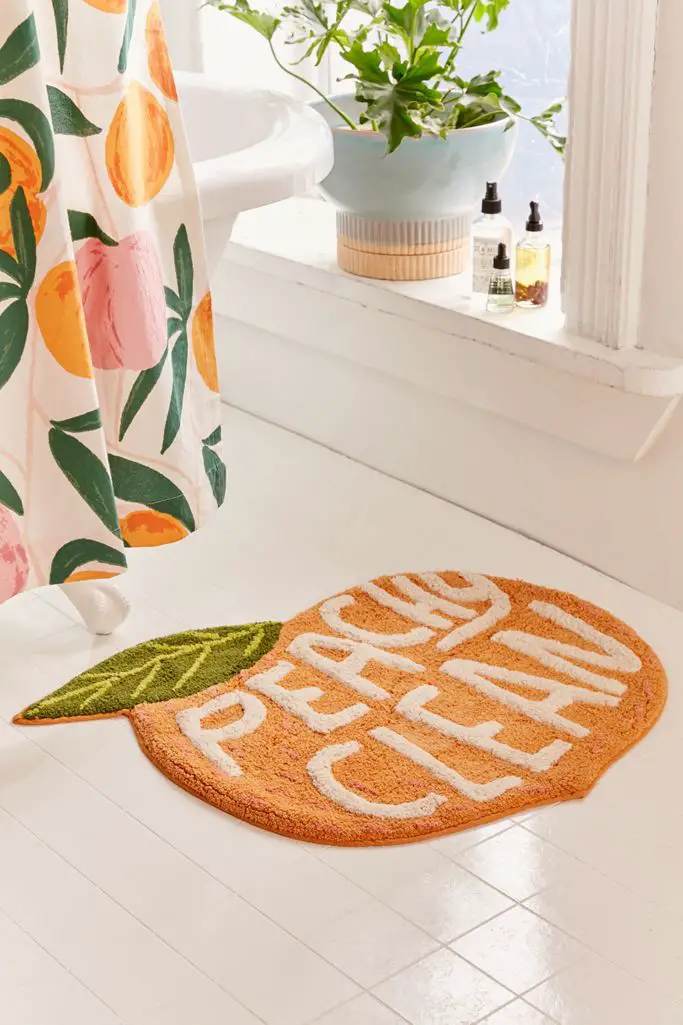 Look at how lovely accent mirror Courtney has hang on her wall. Looks so cozy!
11 – Frame your mirror
Make your RV bathroom look a little bit more high end by framing your mirrors. This tutorial can be found on Liz Marie Blog.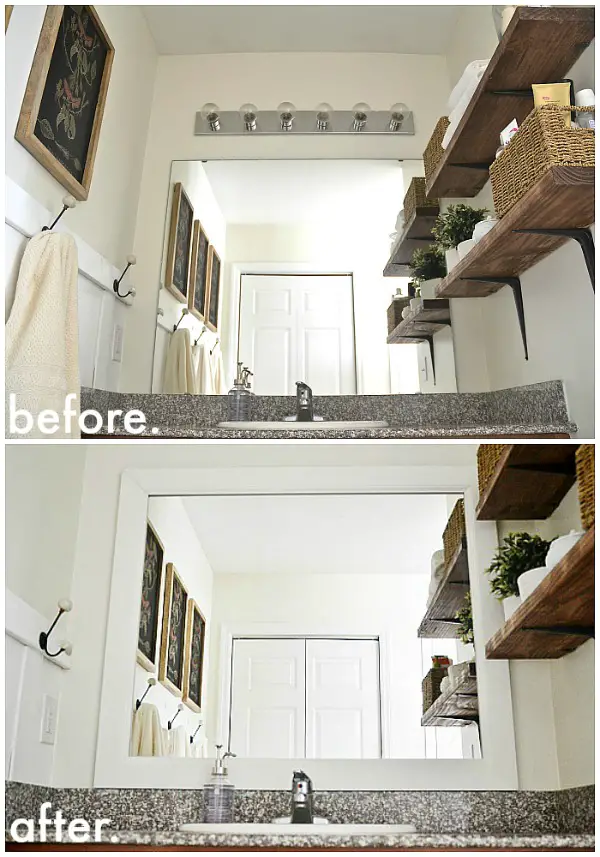 12 – DIY Faux Stained Glass
Do you have a window in your bathroom that lets outsiders see in a little bit too much? How about making faux stained glass window covering? More privacy and more style! Read this easy tutorial here.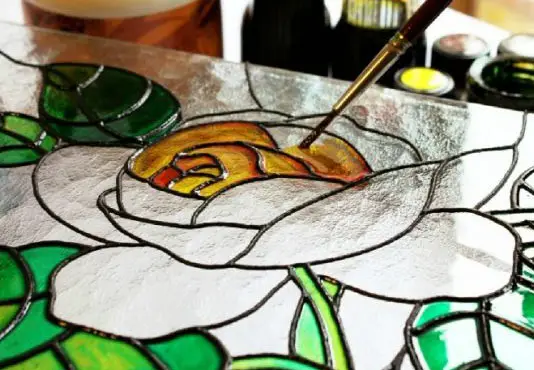 13 – Make your own non-toxic DIY air freshener
Make your RV bathroom smell lovely with your own, non-toxic homemade air fresheners. You'll find some great tutorials here.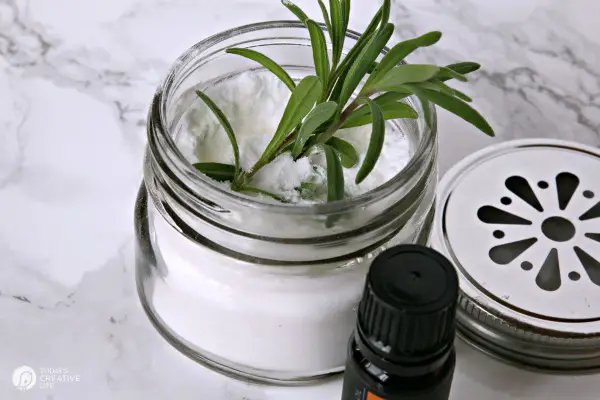 If you are looking for a way to keep your towels smelling nice and fresh, consider making these easy DIY deodorizer disks. Read more here.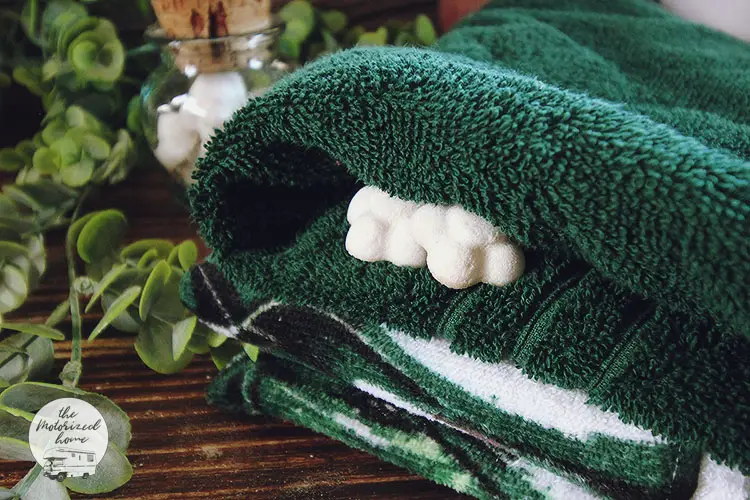 14 – Make your own scented soap
This soap looks so yummy! To make your bathroom smell lovely, DIY some scented soap. This fabulous watermelon soap tutorial can be found here.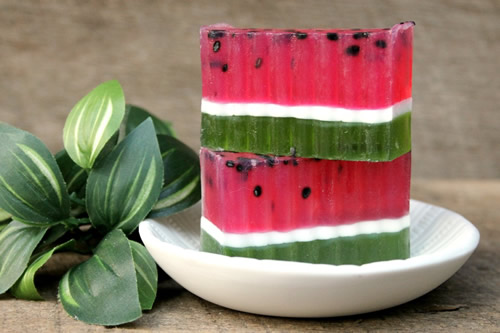 15 – Match your towels or dye them
One way to spot a luxury bathroom is matching towels. If your towels are already pretty old and mismatching color, but still usable, try dying them like Sweet Unwrapping Life did (see below), read more here.

If your towels are not as soft they used to be, try washing them with a cup of vinegar and then baking soda – you'll have lovely, soft towels again.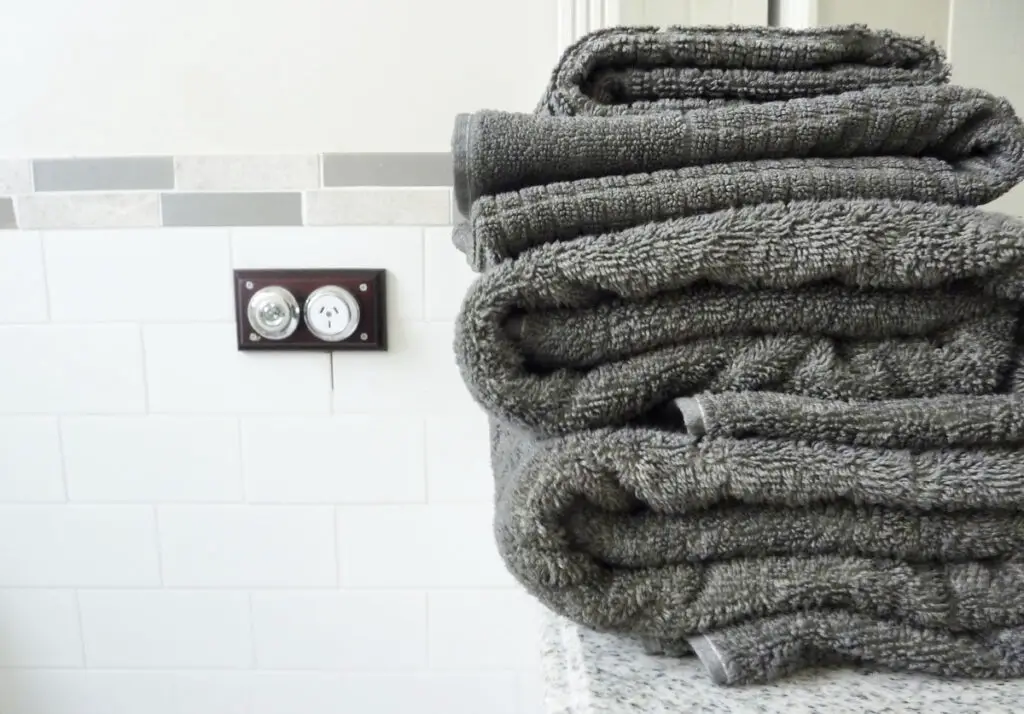 And that's it for now, please leave me a comment of what you think!
Other posts you might be interested in
► 14 Easy RV Makeover Ideas on a Budget
► 21 Ways to Use Self-Adhesive Contact Paper in Your RV Decor
► 80 Jaw-Dropping RV Bathroom Renovations
► How to DIY Faux Tile in an RV or a Camper – Subway and Herringbone
Pin me for later!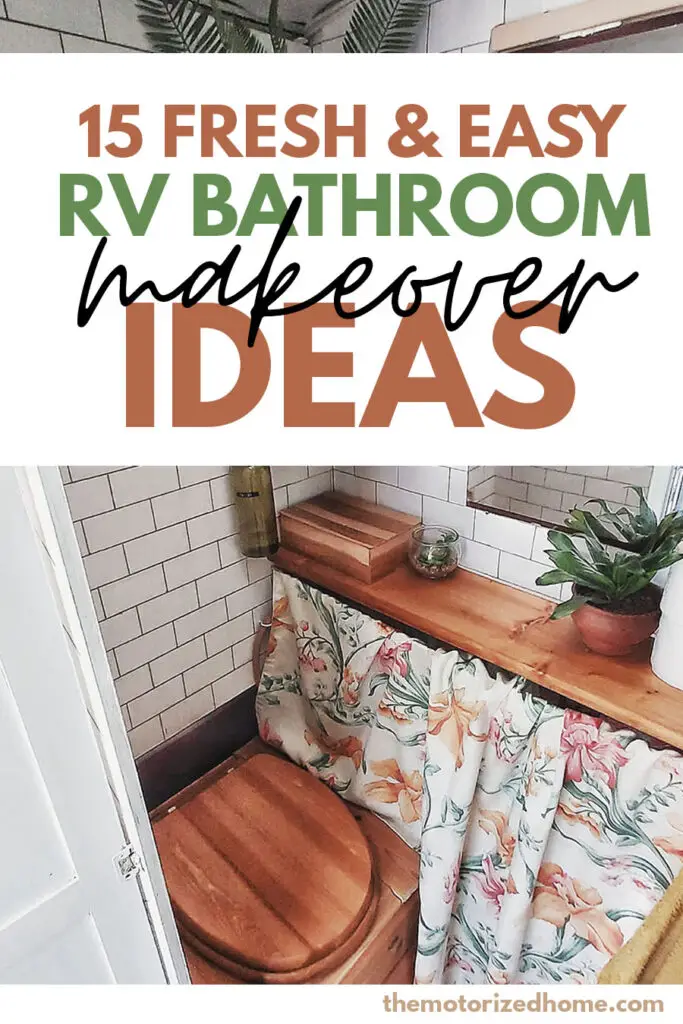 You May Also Like

April 6, 2020

March 27, 2020